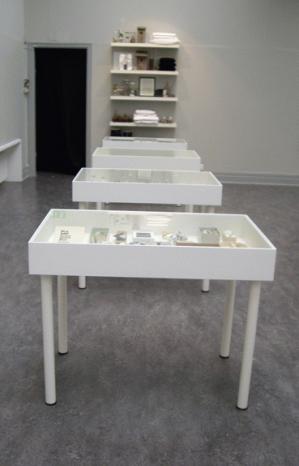 nine graveyards
Ystad konstmuseum, Ystad Sweden
group exhibition Gråzoner
oct-nov 2010
original title: nio kyrkogårdar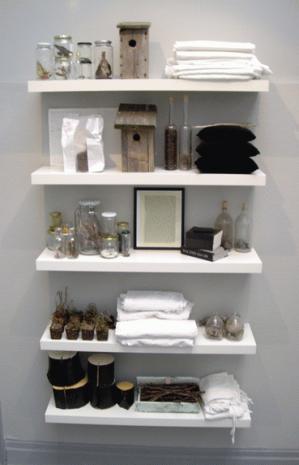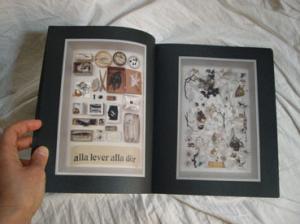 installation with broken things, dried plants and dead
animals
on
five shelfs and four display cases
the text was the archive of every part in the installation
dragonfly wings a gift from ulf lernhammar
bone pipes from a dead elk found a winter long ago
gold crumbs from my teleport
nestingboxes one found in örebro one at my country house
plasterpigeons in paperchests "a phone to dead ones"
grasshopper in a pot of glass from my writing studio
dried pelargonium "mårbacka"
swallownest found at attic space over a sauna
black ants in powderbox
tile with drawing and text "why?"
small bird frozen to death intact on snow
blackbird in glasspot in own blood from the beak
strawberry plant dried
flies found on the floor at a castle
stone black with text "die" done together with my gravstones
bones indefinite origin in a arabian cardboard
birds nest small
teeth from horses in a pot founded in the gobi
disreputable book with fingerprints
matchbox with used matches and small figures
white sheets for "covercape" at forum
big pike skeleton found in the archipelago
book of stone with text "everyone lives everyone dies"
handcups in plaster
bottles one with dragonflies one with insects
chanterelles picked by mother before she died
shells glued on a box of wood
plate of brass from installation "I have contact with the dead"
claw found next to a single bone from a fish
tooths two lines in box of briecheese
swallow dry dignified resting on a plate gift from kerstin wagner
book with drawings and text "det dystra är dystert kan vi låta det
vara så"
waspnest big broken with separated parts under two glasscups
saltcontainer and a small bottle with flies
insects taped on paper indefensible quantity
skull in paperbox one from mongolia one from sweden
flies in two mini bottles
glasses stem parts broken like dead
blueberries dried on twig from the forest
chick dried to death kept in a black box a gift from sara elggren
flower pressed "mandelblomma"
aspen in five pieces paitned in black sawed from public art with
anna giertz
feathers in a paperbox
bottles high and thin one with craneflyes one with fat flies
envelopes fragile from garage
nests of hornets in a paperbox
frog small dry together with a twin frog in a silvercase
sheets gifts from friends for a video in the future
root from unidentified plant
pillows in black velvet with peepsound of bird
silverwhite flying creature in flat box
beetle in a cracked glass with a golden border
feathers small grey lied in a chromed cup
pillow cases with monogram "as" founded in a rubbishdump
appels wrinkled on twig "transparante blanche"
spiders in box from pharmacy
mummyfied bird resting in hands of porcelain
ears from coffeecups in porcelain one golden
mosquitoes in pocketwatch
bananaflies and dust in small glass with a crack
book my own book with psalms "everyone lives everyone dies"
piece of wood looks like an eye from a bird in a glasspot
bean dried found in berlin works as a rattle
parts from backbone in a silvercase craneflyes resting on the lid
eagle feather big a gift from winston junger
beetles and nails in a box of glass
flower dipped in plaster "prästkrage"
drawings of gravestones on thin paper
crystalglasses without fetes gift from kerstin olsson
toothpicks in a glassjar from summerhouse
mini fungus on a tiny branch
snake kid with a piece of sculpture on a silk bed
feathers black burned by the sun found in a window
hornet drowned in plaster
glitter and brimstones in glassbox
creep dry found in a pantry in a small bottle
liquid petrified in glaspot
fish hook and fishbones in a paperbox
plant in a paperbag a gift from anne bakkeslett
grasshopper in glasspot
soaps well used on a plate with disreputable nailbrush
eggshell from minibird on letterbox
gooseberry dried on its own branch
wooden boxes one with black wax one with white plaster
moths trimmings in a small plastic bag
rabbit fur with two small feathers found in ystad
mouse dried intact in chest frozen to death in the attic
butterflies and flies one is metallic blue
small books in a pile
cd with sound text images "h&h o&a n&n"
roses two dried gift from ariana kajfes
pieces of bones unidentified in a box for visitingcards
moth sitting on a wooden clothepin
book in only one copy "a life"
plants dried in soil "clairvoyants"
stone ordinary from ground
snailshells many from different summers
leafs wormeaten looking like lace
tooths animals and humans casts in plaster
tooths real from animal
hook for fishing big and rusty
skull in a cheesecover with only one singel tooth
cones whereof one is mashed
plate without the bottom with bumblebees
gnats a swarm in a small glass
moss with horns
moth pink and light green in a glass pot
eggshell after one breakfast with human hair in a glasspot
sticks in a wooden bin
pigeon in a big glasspot from nora
toffeetins with dusty insect
bird flat with gravel found on pavement saved in a cigarbox
animals small molded in a glasspot
original text (in swedish)
Trollsländor vingar i glasburk gåva från ulf lernhammar
besöken fortsätter.
Bladguld smulor i burk rester från teleport.
Holkar begagnade en funnen i örebro en på landet.
Duvor gips i pappkistor "telefon till de döda".
Vårtbitare i glasburkar samt i snapsglas från skrivarlya.
Pelargon torkad "mårbacka".
Svalbo hittat på vindsutrymme över bastu.
Myror svarta i puderdosa.
Kakelplatta med teckning text "varför?".
Småfågel ihjälfrusen intakt låg på snön.
Koltrast i glasburk i sitt blod som runnit genom näbben.
Jordgubbsplanta torr.
Flugor funna på golvet slottsvind.
Sten diabas text "dö" gjord tillsammans med gravstenar i skåne.
Benknotor obestämt ursprung i arabisk kartong.
Fågelbo litet sprött.
Häst tänder i burk funna på vandring i gobi.
Bok tumavtryck tjock sliten.
Tändsticksask gammal med förbrukade tändstickor samt små figurer.
Lakan vita köpta till "täckmantel" installation på forum.
Gädda skelett stor hittad i skärgården.
Bok sten med text "alla lever alla dör".
Händer kupade i gips.
Flaskor en med fem trollsländor en med ett kryll av insekter.
Kantareller plockade torkade av mamma innan hon dog.
Snäckor dekorativa limmade på träask.
Mässingsskylt från installationen "jag har kontakt med döda"
rosendals trädgård.
Klo från fågel bredvid ett fiskben.
Tänder två rader i brieask.
Svala torkad vilar anständigt på fat med guldkant upptäckt
bakom element gåva från kerstin wagner.
Bok med teckningar text "det dystra är dystert kan vi låta det vara så".
Getingbo stort trasigt den yttre delen under en glaskupa den inre
under en likadan.
Saltkar samt liten flaska med glaslock förvarar flugor.
Insekter fasttejpade på papper gjordes redan andra året på kkh
oförsvarliga mänger.
Kranier i pappask en från mongoliet en från sverige.
Flugor i två miniflaskor.
Fötter ben kupor trasiga glas som döda.
Blåbär torkade på kvist från skogen.
Fågelunge torkad förvaras i egen ask gåva från sara elggren.
Mandelblom pressade.
Asp sågade bitar svart färg från utsmyckning ihop med anna giertz.
Fjädrar olika förvaras i papperslåda.
Flaskor långa smala en innehåller harskankar tunna flygfän den
andra innehåller fetare.
Kuvert spröda små från verkstad.
Bålgetingar små bon i ask.
Grodunge torkad ligger i silveretui med kompis.
Lakan gamla gåvor från vänner till kommande film.
Rot från obestämd växt.
Kuddar svart sammet med fågelpip.
Flygfä silvervit i platt plastburk mal i en nästan likadan.
Skalbagge i sprucket glas med guldkant.
Fjädrar små grå ligger i kromad kupa.
Örngott med brodyr "as" funna i grovsoprum.
Äpplen på kvist torkad "transparante blanche".
Spindlar i apoteksask.
Fågel mumifierad vilar i porslinshänder.
Öron från kaffekoppar porslin plast varav en guld.
Myggor i fickur.
Bananflugor damm i mindre glas med spricka.
Bok tumverser i psalmboksform "alla lever alla dör".
Träbit liknar fågelöga ligger i glasburk.
Böna torkad hittat i berlin fungerar som skallra.
Ryggradsdelar av obestämt ursprung i silverask harskankar vilar
i locket.
Havsörn fjäder stor hittad av winston junger.
Skalbaggar småspik i glasask.
Prästkragar doppade i gips.
Gravstenar teckning text på tunna papper.
Kristalllglas utan fötter gåva från kerstin olsson.
Tandpetare i fyrkantig glasburk från sommarstuga.
Minisvamp på liten gren.
Ormunge med skulpturbit på sidenbädd i pappask.
Fjärillar svarta brända av solen på fönsterbräda i uthus.
Bålgeting drunknad i gips.
Glitter citronfjärillar i glasask.
Kryp från skafferi torkade i liten glasflaska.
Vätska förstelnad i glasburk.
Drag fiskben i pappask.
Växt i papperspåse gåva från anne bakkeslett.
Gräshoppare i glasburk.
Tvålar välanvända på tvålkopp med sliten nagelborste.
Minifågel äggskal på läderask.
Krusbär torkade på sin egen gren.
Träaskar en med svart vax en med vit gips med rester av nattfjärillar.
Kanin päls med två småfjädrar hittade i ystad.
Mus torkad intakt i kista fryst ihjäl i vindsrum.
Fjärillar flugor tre av varje varav en fluga har nyansen blåmetallic ligger
i samma pappask.
Böcker små i trave.
Cd ljud text bild "h&h o&a n&n".
Rosor torra gåva från ariana kajfes.
Benbitar okänt ursprung i visitkortsask.
Pälsängel sitter i klädnypa trä.
Bok "ett liv" i endast ett ex.
Växter torra som står kvar i sin jord "clairvoyanter" från utställningen
"jag är clairvoyant".
Sten vanlig från marken.
Vinbärssnigel snäckor många från olika somrar.
Maskätna humleblad liknar spets.
Tänder djur människa gips.
Tänder djur äkta.
Krok för fiske stor rostig.
Kranie under ostkupa med endast en framtand gåva från gunilla
ringborg.
Kottar varav en mosad.
Tallrik utan botten humlor.
Knott i liten hög.
Mossa med spröt.
Nattfjärill rosa ljusgrön i glasburk.
Äggskal efter en frukost med hårstrån från människa i glasburk.
Pinnar i trälåda.
Skogsduva i stor glasburk från installationen "till minnet av de namnlösa
som funnit en holk" i nora.
Knäckformar med dammig insekt.
Fågel platt med smågrus låg på trottoaren nedtrampad nu är den räddad
ligger i cigarrlåda av trä.
Smådjur mögliga i glasburk.