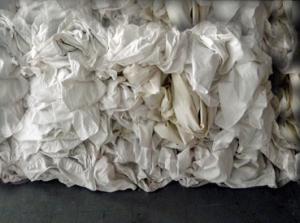 collected observations and memories
Norrtälje konsthall, Sweden
22 october - 4 december
2016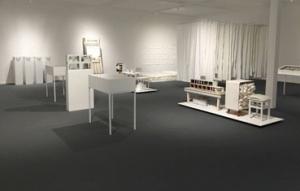 A TRAVEL CAN TAKE NINE YEARS
9 paintings with glass and blocks
2016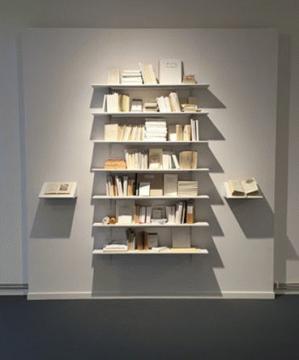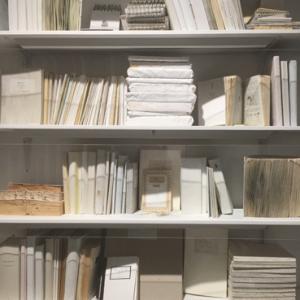 THE WHITE LIBRARY
9 shelves with unique books
1977-2016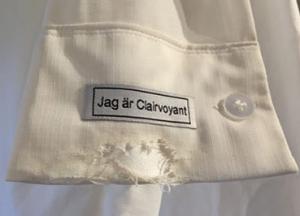 I AM CLAIRVOYANT
clothes with labels
1980-2016
DRAWINGS FROM THE FUTURE
730 + 730 pencil drawings
2011/1999
se some drawings closer at drawings from the future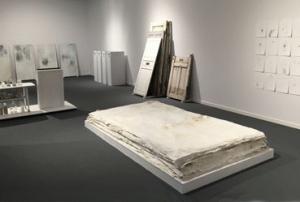 THE ISLAND OF THE SLEEP
100 sheets (on podium)
2015-2016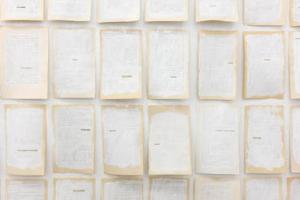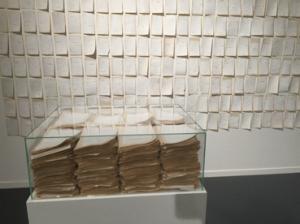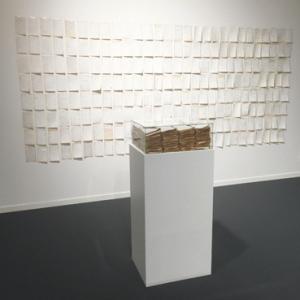 AS WHITE AS WE COULD SEE
painted pages from books
2015-2016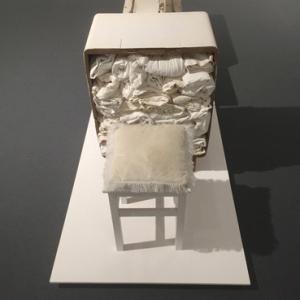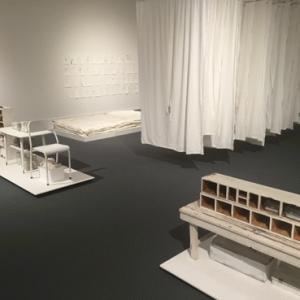 SLOWLY ALSO THE REST DISAPPEARING IN ITSELF
2 podiums with furnitures and objects
1980-2016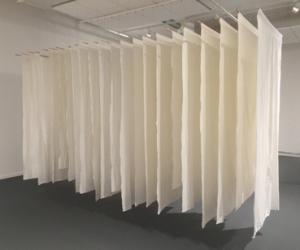 FROM ONE REST TO ANOTHER
old sheets
1965-2016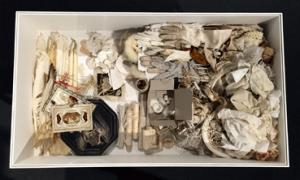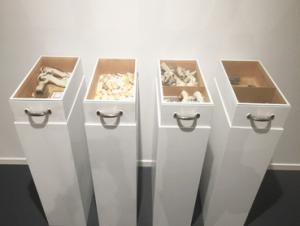 THE TIME HAS A SECRET THAT CAN CHANGE EVERYTHING
objects / natural history specimens in various glass cases
1965-2016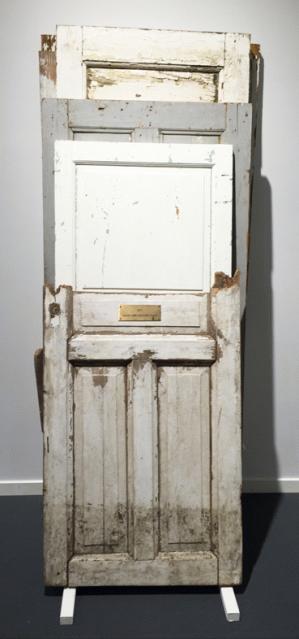 THE CEMETERY
doors with texts on brass plates and blocks
2009-2016

 

COLLECTED OBSERVATIONS AND MEOMRIES
/ SAMLADE OBSERVATIONER OCH MINNEN


1
A TRAVEL CAN TAKE NINE YEARS
/EN RESA KAN TA NIO ÅR
9 paintings with glass, leaning against the wall
2016


More or less thin layers of acrylic paints, sputtered gold, pearl, 
pigments, stains lacquer and shellac. Each layer represents a new 
experience and a new meeting with ourselfs. In the nine years we 
went to the other side. Preserving the time the events took twelve 
years. We had four years of sleepless nights and 11 years to 
decipher a number of dreams. The waiting took seven, including the 
investigation took seven. The last was satisfactory. 
The name of ourtrip is dizziness.

Mer eller mindre tunna lager på lager av akrylfärger, finfördelat guld, pärlemo, pigment, betslack och schellack. Varje lager representerar en ny erfarenhet och ett nytt möte med sig själv. På nio år tog vi oss till den andra sidan. Att bevara tidshändelserna tog tolv år. Vi hade fyra år av sömnlösa nätter och 11 år för att tyda ett antal drömmar. Väntan tog sju, även undersökningen tog sju. Det sistnämnda var tillfredsställande. Namnet på vår resa är Svindel.

2
THE CEMETERY
/ EN EGEN KYRKOGÅRD
6 doors with texts on brass plates
2009-2016
The lower part of 15 doors were dug into the ground on the Rosendals
trädgård in Stockholm as a graveyard with each door dedicated to a dead
person. The door opened by itself, to have our own teleport, or better, to
be our own teleport. To have the ability to travel both backwards and
into the future, in a form of ascension. To leave a place and while behold
a new page, without the visible. And to finally travel in memory or in
dreams or to die, not always on the physical level.

Nedre delen av 15 dörrar grävdes ner i jorden på Rosendals trädgård och stod likt en kyrkogård med varje dörr tillägnad en död person. Dörren öppnas av sig själv, dvs att ha en egen teleport, eller ännu bättre, att vara sin egen teleport, att ha förmågan att resa både bakåt och in i framtiden, i en form av himmelsfärd. Att lämna en plats och samtidigt skåda en ny sida, utan att den syns och för att slutligen färdas i minnet eller i drömmen eller att dö, inte alltid på det fysiska planet.

3
THE ISLAND OF THE SLEEP
/ SÖMNENS Ö
100 sheets on the podium
2015-2016


New sheets placed in Norrtäljeån (Sweden) summer 2015 and formed an
island. Thereafter, the sheets were taken out of the water and dried to
appear at Katarina cemetery. The ancient Egyptians death-book gave
detailed instructions to all the souls that started the long journey to the
"blessed island" where they dwelt in peace. Island of sleep is a form of
incantation against a dismal finish in mortality.

Nya lakan placerades i Norrtäljeån sommaren 2015 och bildade en ö. Därefter togs lakanen upp och torkades för att visas i Benhuset på Katarina kyrkogård. De gamla egyptiernas dödsbok gav utförliga anvisningar åt alla själar som börjat den långa resan till "de välsignades ö" där de dvaldes i frid. Sömnens ö är en form av besvärjelse mot ett dystert avslut i jordelivet.

4
DRAWINGS FROM THE FUTURE
/ TECKNINGAR FRÅN FRAMTIDEN
730 pencil drawings on the wall and the glass cover + 730 in binders
2011/1999
2011 I draw phenomenons to future dreams dated ahead. Five years later I 
discovered similarities with the "one-a-day drawings" from my first two 
years at the College of Fine Arts in Stockholm.
To wake up every morning as something new, as well as any unused and 
unknown. Breathing is a complex procedure that is located to various 
structures in the chest. To lift or sink, or do not stay on the surface, gives us the opportunity to take stock of what is happening in different places simultaneously. We saw something that looked like frost. It thickens increasingly every hour.

2011 tecknade jag händelser till framtida drömmar som daterades framåt i tiden. Fem år senare upptäckte jag likheter med "en-om-dagen-teckningar" från de två första åren på Konsthögskolan. Att varje morgon vakna som till något nytt, liksom något oförbrukat och okänt. Andning är en komplex procedur som lokaliseras till olika strukturer i bröstkorgen. Att lyfta eller sjunka, dvs att inte hålla sig på ytan, ger oss möjligheten att överblicka vad som sker på olika platser samtidigt. Vi fick syn på något som liknade frost. Den tätnar alltmer varje timme.


5
FROM ONE REST TO ANOTHER
/ FRÅN EN VILA TILL DEN ANDRA
hanging sheets
1965-2016

To save waste sheets. To perceive the overlooked. To position ourselves so we only see the sky and meet a condensed moment of infinity. Night after night we dream that we sleep at night. As hard as if they were dead at night and we lean over ourselves at night and causing drafts under water, and all the thoughts lightens. The simplest is to sleep from one rest period to another. It goes faster and slower, depending on how we travel.

Att spara på förbrukade lakan. Att förnimma det förbisedda. Att placera sig så att vi endast ser himmel och möta ett förtätat ögonblick av oändlighet. Natt efter natt drömmer vi att vi sover på natten. Så hårt som om dom var döda på natten och vi lutar oss över oss själva på natten och orsakar korsdrag under vatten och alla tankarna lättar. Det enklaste är att sova sig från den ena vilan till en annan. Det går fortare och långsammare, beroende på hur vi färdas.


6
AS WHITE AS WE COULD SEE
/ SÅ VITT VI KUNDE SE
painted pages from books on walls and in a glass box
2015-2016.

Paperback books that laid in banana boxes in the attic, picked apart, were mixed together and each side was coated with white paint. The visible sentences beginning with "and" and form an eternity long sentence, from one page to another. The bells stopped. At the horizon everything is still, from the outside. And the others standing next to the corner now, and the wind is still, and outside our field of vision, and now we glide forward. It is not still and not completely silent, still there is both stillness and calmness. The silence breathes confidence. To think is a lonely work.

Pocketböckerna som låg i banankartonger på vinden plockades isär, blandades ihop och varje sida beströks med vit färg. De synliga meningarna börjar på "och" och bildar på så vis en evighetslång mening. Klockorna stannade. Vid händelsehorisonten står allt stilla, utifrån sett. OCH dom andra står alldeles intill husknuten nu, OCH vinden är orörlig, OCH utanför vårt synfält, OCH nu glider vi fram. Det är inte stilla eller inte helt tyst, ändå råder både stillhet och tystnad. Tystnaden andas förtröstan. Att tänka är en ensam sysselsättning.


7
THE TIME HAS A SECRET THAT CAN CHANGE EVERYTHING
/ TIDEN HAR EN HEMLIGHET SOM KAN KOMMA ATT FÖRÄNDRA ALLT
objects and natural history specimens in 8 glass cases scattered in the room
1965-2016

Studying positions, perhaps changing them with the eyes. The experience of a very small and at the same time extremely heavy object prompting an unexpected feeling of weightlessness. All living communicate. Flower Language. There are different versions of it and it has lasted a very long time. After some time the bone pieces are moved to a permanent location, legs stowed effective and burial place becomes free.

Att studera positioner, kanske ändra dom med blicken. Upplevelsen av ett mycket litet och samtidigt oerhört tungt föremål ingav en oväntad känsla av tyngdlöshet. Godartade minnen och spår efter olika former av liv. Allt som lever kommunicerar med varandra. Blomsterspråk. Det finns olika versioner på det och det har pågått väldigt länge. Efter en tid flyttas bendelarna till en slutgiltig plats, benen stuvas effektivare och gravplatsen blir ledig.


8
I AM CLAIRVOYANT
/ JAG ÄR CLAIRVOYANT
shoes and clothes on the podium and hanging
1980-2016

Someone you meet on the street, an ordinary human, but in some cases 
turns out to be a plant, an animal and a person from another time 
(simultaneously). Having a clear vision, with contact both backward and
forward in time, with the former living or future lives. If you are near a 
clairvoyant, you can get help with something that is important. Hovering over the roofs. Hovering straight out from a front. Hovering over a street. Floated with birds. Hovered together over a park. In the sky, beyond our physical body of the earth. Or thoughts that lift like a balloon over the garden party.

Någon du möter på gatan, en vanlig människa, men som i vissa fall visar sig vara både en växt, ett djur och en person från en annan tid (samtidigt). Att ha en klarsyn, med kontakt både bakåt och framåt i tiden, dvs med tidigare levande eller kommande liv. Om du är i närheten av en clairvoyant, kan du få hjälp med något som är viktigt. Svävar över tak. Svävar rakt ut från en fasad. Svävar över en gata. Svävat med fåglar. Svävade tillsammans över en park. I himlen, utanför vår fysiska kropp, över jorden. Eller tankar som lyfter som en ballong över trädgårdsfesten.


9
SLOWLY ALSO THE REST DISAPPEARING IN ITSELF
/ SAKTA FÖRSVINNER OCKSÅ RESTEN IN I SIG SJÄLV
2 podiums with furnitures
1980-2016

The shear and covered have covered with paint, but is basically still just as worn. If we close our eyes and make an effort, we can feel the ground, far away, in the woods. Nature wilt and dries up under our feets. All organisms currently on earth grows from other organisms, and I note the quiet drama.

Det skeva och flagnade som täckts med färg, är i grunden fortfarande lika slitet. Om vi blundar och anstränger oss kan vi känna marken, långt bort, inne i skogen. Naturen vissnar och torkar ihop under fötterna. Alla organismer som idag finns på jorden härstammar från andra organismer och jag noterar den stillsamma dramatiken.


10
THE WHITE LIBRARY
/ TANKENS KARTOTEK: DET VITA BIBLIOTEKET
9 shelves with unique books
1977-2016

The card index are two libraries; this white that grows in parallel with a black, which contains publications made in one copy. Reading the excavated books (remote viewing, the ability to see blindfolded). Then the books will obviously burn (reduced to ashes). After some time, they have been restored miraculously (intact). With the dead we do not need to talk (we read for hours and rarely turn pages). A frozen moment of the archivist, and then perhaps never again..

Tankens kartotek är två bibliotek; detta vita som växer parallellt med ett svart, vilka innehåller publikationer gjorda i ett exemplar. Läser de uppgrävda böckerna (fjärrsyn, förmågan att se med ögonbindel). Sen ska böckerna naturligtvis brännas (reduceras till aska). Efter en viss tid har dom återställts mirakulöst (intakta). Med dom döda behöver det inte pratas (vi läser i timtal och vänder sällan blad). I ett ögonblick långt som livet självt står vi mitt emot varandra. Ett fryst ögonblick hos arkivbildaren, och därefter kanske aldrig mer.