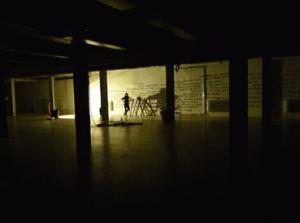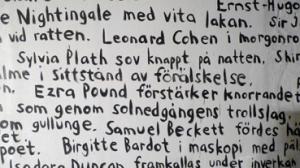 see you on the bottom floor
text on the wall (50 meter)
original title: vi ses på bottenplan
Järla Läderfabrik, Nacka Stockholm
group exhibition the Red Carpet Ball
jan 2011
the lines on the wall was
my status updates from
facebook
but I changed my name
to
famous persons
Sylvia Plath almost did not sleep at night.
Ezra Pound make the noise stronger.
Rosa Luxenburg is born in memory.
Florence Nightingale with white sheets.
Winston Churchill talk about snow.
Santiago Sierra fell asleep behind the steering wheel.
Samuel Beckett was lead by a whirl.
Dante Alighieri as sweet as a plum.
Vladimir Majakovskij is boiled in fat dreams.
Selma Lagerlöf will send me the hat.
Josephine Baker discover one of them.
Marcel Duchamp is eating his supper.
Klaus Kinski lives the same intense life.
Marc Jacobs in my mouth.
France Gall starers at the flow.
Pablo Neruda standing around the corner.
Marie Curie reach us in reverse.
Coco Chanel with her head in trouble.
Andy Kauffman since some years back.
Barack Obama has his own nature.
Kate Bush thinks about the art.
Arnold Böcklin catched me far away.
Tom Jones on his other way.
Sarah Bernhardt feel her toes.
Jeanne d´Arc in the huge fatigue.
Susan Sontag from her heart of freshness.
Yoko Ono with her cardigans.
Edgar Lee Masters taste as butter.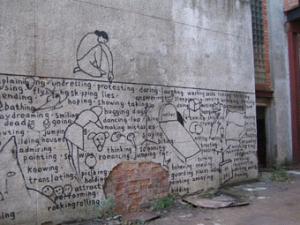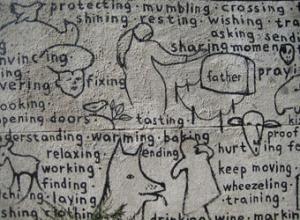 Riga Latvia
Vansu sound festival
oct 2007
text and drawings on a wall
(50 meter)
outside the Vansu
festival building
for
sound performances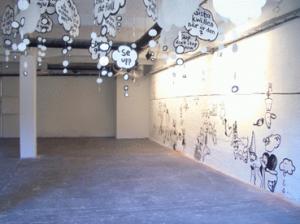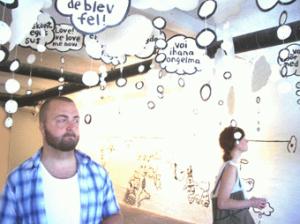 Röda Sten, Göteborg Sweden
group exhibition Istället för ljud
sumer 2006
drawings on a wall (20 meter)
text on
thought bubbles
hanging from the ceiling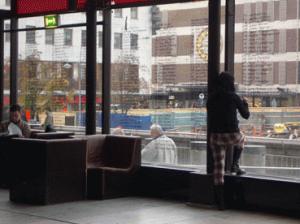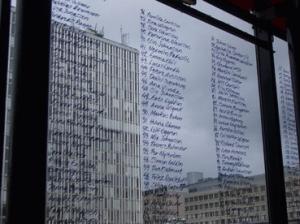 Kulturhuset, Stockholm
text on windows
2004
my name-list
(on the big windows at the entrance)
80. Malin Johansson
82. Simone Bergman
92. Anders Johansson
94. Karolina Östemark
99. Kebir Belmhamdi
156.Filippa Sjöberg
192.Kristin Forslöv
193.CharLotte Granath
204.Mia Thuberg
227.Christian Andersson
228.Rolf Axelsson
230.Lars Andersson
231.Staffan Olofson
232.Torbjörn Nilsson
233.Johan Persson
243.Jenny Nilsson
245.Maggan Lindqvist
246.Varin Solkela
256.Jan Åkerfeldt
257.Ronnie Cederqvist
258.Mia Lindberg
259.Peter Wallenius
268.Johan Lindh
270.Sebastian Burgman
283.Sten-Olof Hellström
288.Carina Gardefjard
294.Henrik Lindholm
295.Kjell Hansson
296.Sara Gustavsson
302.Ulf Rahmberg
303.Hasse Lindroth
309.Kajsa Lindberg
315.Erik Lundvall
316.Jimmy Svensson
317.Henrik Lindqvist
320.Simon Caringer
322.Kami Khazai
329.Henrik Lundström
332.Gunnar Lundkvist
334.Karin Lindkvist
335.Eva Hagman
336.Christer Åkerfeldt
340.John Engström
341.Linus Davidsson
343.Julee Blancharó
344.Kevin Pewill
348.Robert Karlsson
352.Eija Boman
358.Erik Olsson
362.Charlotte Salén
375.H P Bergeroth
392.Matilda Bryngelson
398.Kajsa Israelsson
410.Måns Hagström
415.Elisabet Sandberg
422.Sverker Arvidsson
426.Johan Svensson
430.Karin Karlsson